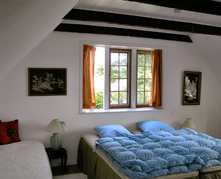 All 3 rooms are on the first floor and all have panorama view over the sea, as can be seen on the pictures. Each room has its own toilet (wc) hand wash basin and mirror. The shower room and the kitchen are for common use for all the 3 rooms. The kitchen is equipped with a fridge, micro oven, double cooking plates and all service. There are a flat screen TV in all rooms and a possibility to borrow a DVD player and free use of our wireless internet
As can be seen on the pictures, each room hase a decoration theme, the room to the east has Asia, the one in the middle has Africa and the one to the west has Central America
.
All the beds are very comfortable, medium hard/soft and all are what we in Denmark call "box madras", all are single beds the measure is 90x200 cm. they are then put together to form a double bed, two of the rooms have 3 single beds, and it is possible to add one camping bed, also a baby cot is available and a high chair.